Where should I focus when taking a Landscape Shot?
When shooting a typical landscape image it is normal to attempt to keep as much of the image in focus as possible.
This means selecting a small Aperture (remember the larger the number the smaller the actual Aperture) to ensure that you end up with a large depth of field. This will ensure that parts of the image that are both close and far away from you have a good chance of being somewhat in focus.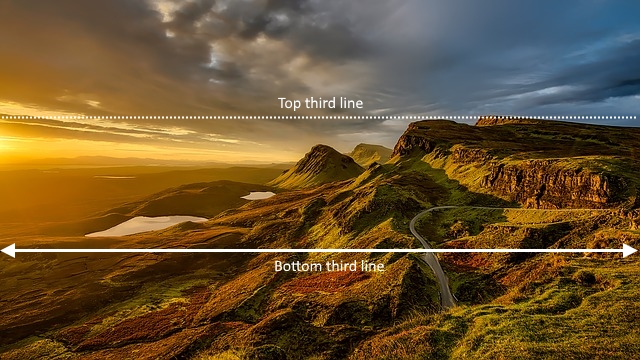 But at what point in the shot should you actually focus the image?
I suspect that many digital camera owners would set the focal point as the middle of the shot – or even at the horizon – however it might not actually be the ideal place to focus your camera.
I chatted this week with a landscape photographer who shared this tip:
'Focus in the lower half of the image – at around the 'thirdway' point.'
Ok – I'm not sure if 'thirdway' is an actual word – but what he was suggesting is that the point that will help you get the maximum amount of your shot in focus is at a point around a third of the way up an image (as highlighted above).